FINAL PART : Join our FREE 15 Day React, JS, PHP Full Stack course, learn and get certificates, Totally FREE.
Congratulations, you have come to the last step. We are having two batches, the offline version is Free and the online version has a small fee to ensure non-serious people don't come and disturb the serious ones.
FREE 15 Days PHP Programming Course.
This course will help you build a strong foundation for more advanced topics like Full Stack, JS, PHP, React etc. You will also get a certificate at the end. This is the most important programming language which can help you get jobs in the smallest or the biggest companies as well as become a next generation entrepreneur.
Eligibility:
This supercharged course is suitable for both those who know programming (BTech/BCA/MCA etc) and those who are new (BCom/BA etc). If you think that is strange, remember, companies like IBM, when they started, hired people from Maths, Physics, Arts and Philosophy and trained them Software Development. There are secrets they dont tell you.
Offline Batch: FREE
Offline Live Classroom training in Salt Lake, Sec V, Kolkata. Held 5 Days a week, Every Monday to Friday. Only 12 people per batch.

Dates: Starts on Monday, 5th December 2022.
Duration: 2 Weeks.
Fees: Rs. 0/-
Batch Timings: 2:30pm to 4:30pm
Online Batch: Rs.2000
Online Live Classes on Zoom App. Fully interactive and as good as offline classes. You need a computer with a stable internet connection. Five Days a week, Every Monday to Friday.

Dates: Starts on Monday, 5th December 2022.
Duration: 2 Weeks.
Fees: Rs. 2000/-
Timings: 9:00pm to 10:30pm (Night)

Any Questions? Any Doubts? Please do not hesitate to call us on the Phone: 8620007775 and we will be happy to help you.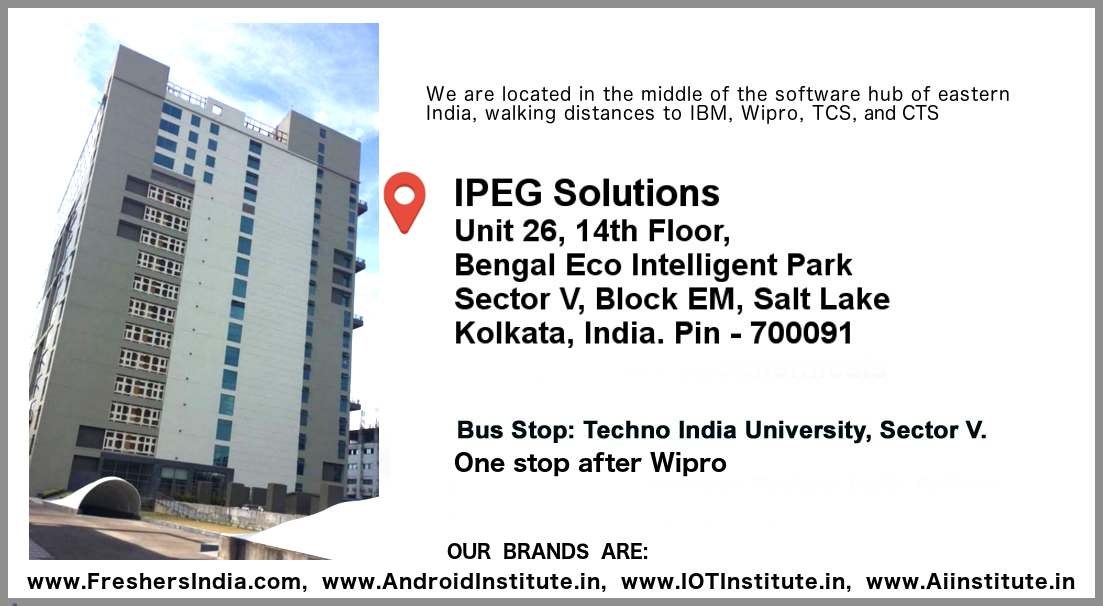 ---
Here are some people who have joined us lately:
---
Paid Advanced Courses
We love programming and working on the latest technologies. Here are some of the best advanced courses you may join at FreshersIndia.
---
Look below how some of our ex students changed their lives - we wish you will send us a similar letter soon too!
---